Black people are saying enough is enough and the time is here and now to make a long standing change.
The killing of George Floyd has led to a reckoning not just in Minneapolis where it occurred, or even in the USA, but across the world. Black people are marching, declaring that their lives matter.
In the UK, the 125 years old 18 feet statue of slave trader Edward Colston was brought down during the #BlackLivesMatter protest.
According to Guardian, Colston is believed to have sold about 100,000 humans from West Africa from which he made his fortune. In spite of this humanity, a giant statue in honor of him stood for 125 years. Until June 2020.

And the same thing is happening across the world. In Belgium statues of the genocidal Leopold has been defaced or brought down. In Virginia the governor Ralph Northam has said the statue of Confederate General Robert E. Leewill be brought down, and several other confederacy statues have either being defaced or brought down.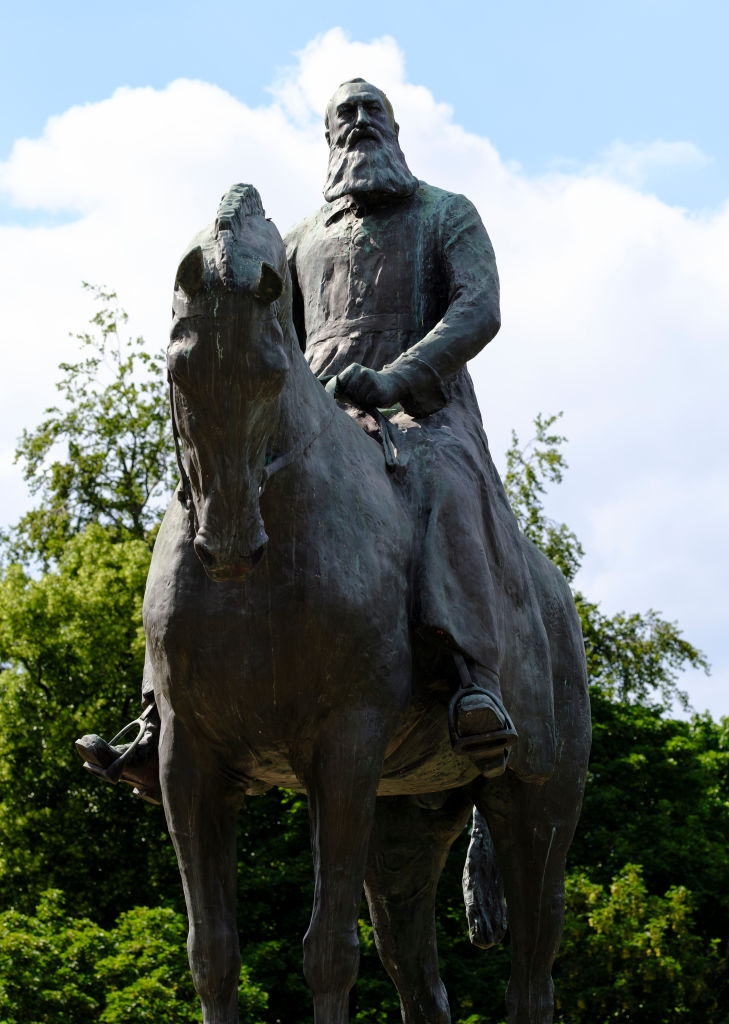 BRUSSELS, BELGIUM – JUNE 7: A statue of the Belgium King, Leopold II is seen in a park on June 7, 2020, in Brussels, Belgium. Léopold Louis-Philippe Marie Victor de Saxe-Cobourg-Gotha exercised de facto sovereignty on Congo Free State from 1885 to 1908. A petition was launched on June 1 to remove all statues in honor of this colonial-era King from the City of Brussels, after worldwide anti-racist protests following the death of George Floyd, a black US citizen who died after a white policeman kneeled on his neck for over eight minutes. (Photo by Thierry Monasse/Getty Images)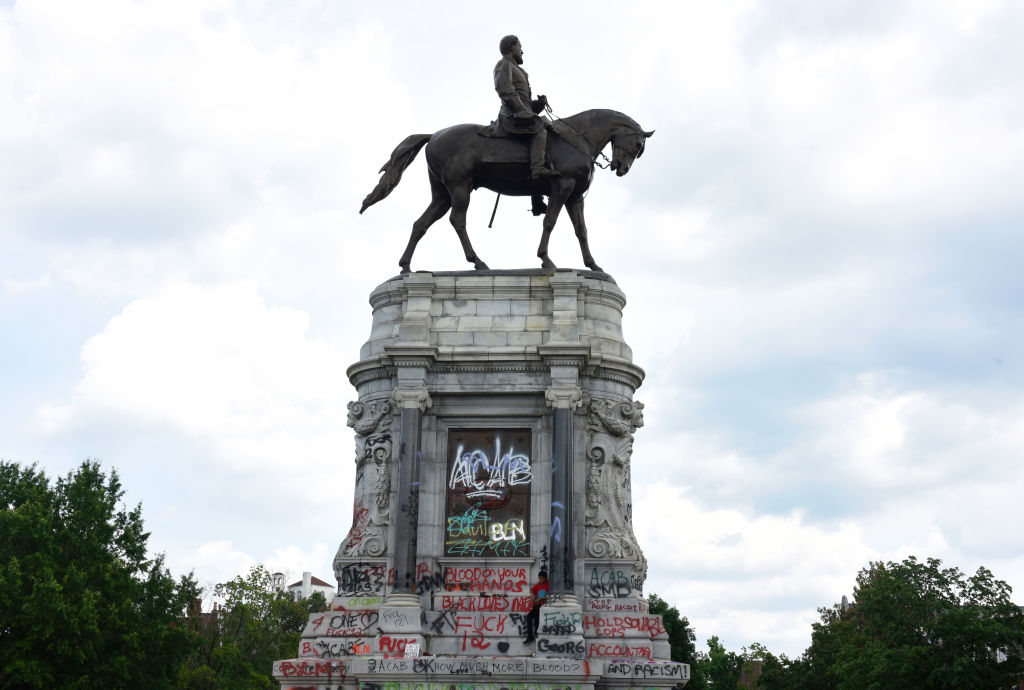 RICHMOND, VIRGINIA – JUNE 06: Protesters gather around the statue of Confederate General Robert E. Lee on Monument Avenue on June 6, 2020 in Richmond, Virginia, amidst protests over the death of George Floyd in police custody. Virginia Gov. Ralph Northam (D) announced plans to remove the statue. (Photo by Vivien Killilea/Getty Images)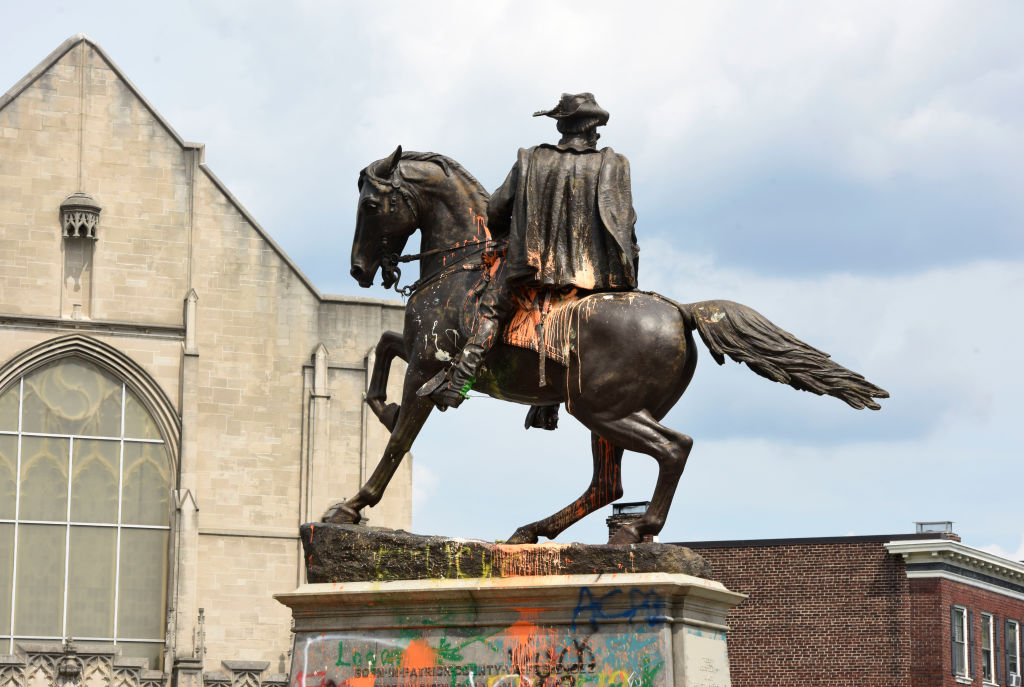 RICHMOND, VIRGINIA – JUNE 06: Splashes of paint are seen on the J. E. B. Stuart Monument on June 6, 2020, amidst protests to remove the Confederate statues on Monument Avenue in Richmond, Virginia. Virginia Gov. Ralph Northam (D) and Richmond Mayor Levar Stoney announced plans to take down the statue of Confederate General Robert E. Lee earlier in the week. (Photo by Vivien Killilea/Getty Images)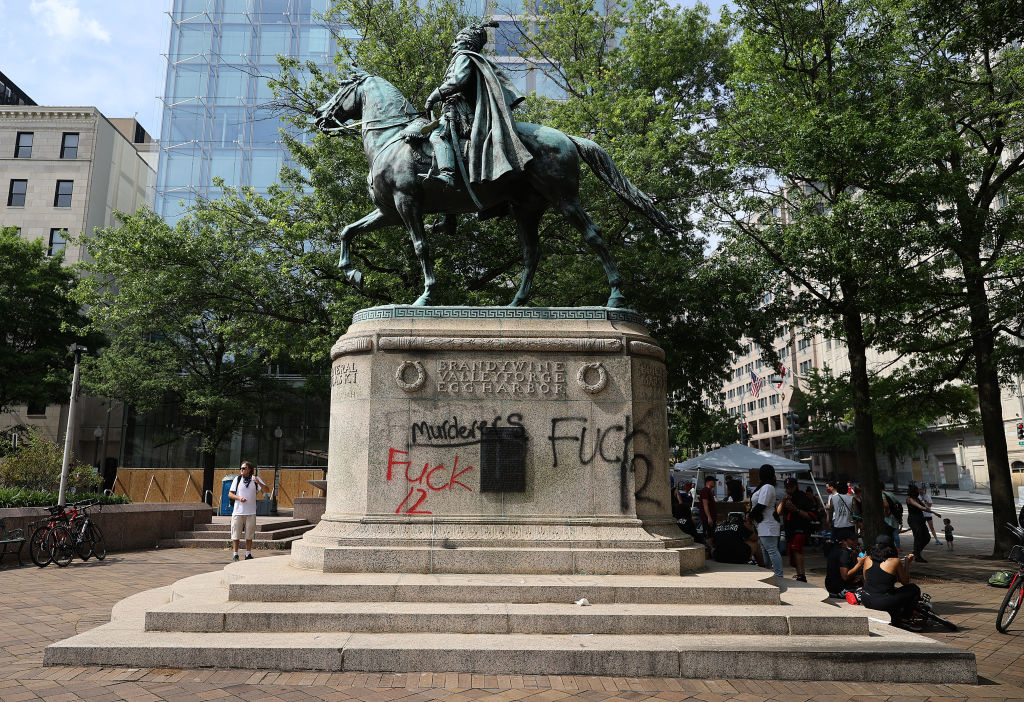 WASHINGTON, – JUNE 06: The statue of Revolutionary War General Casimir Pulaski was spray painted during a protest against police brutality and racism on June 6, 2020 in Washington, DC. This is the 12th day of protests with people descending on the city to peacefully demonstrate in the wake of the death of George Floyd, a black man, who died while in police custody in Minneapolis on May 25th. (Photo by Chip Somodevilla/Getty Images)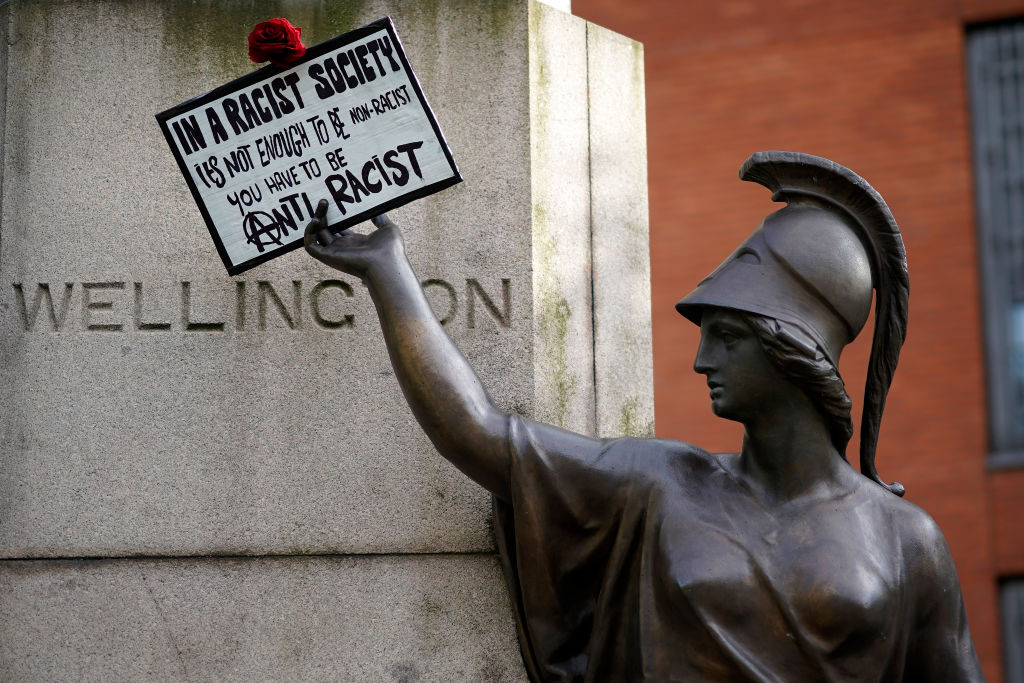 MANCHESTER, ENGLAND – JUNE 06: A protest placard is affixed to the plinth of a statue of the Duke of Wellington on the second day of Black Lives Matter demonstrations in Piccadilly Gardens on June 06, 2020 in Manchester, United Kingdom. The death of an African-American man, George Floyd, while in the custody of Minneapolis police has sparked protests across the United States, as well as demonstrations of solidarity in many countries around the world. (Photo by Christopher Furlong/Getty Images)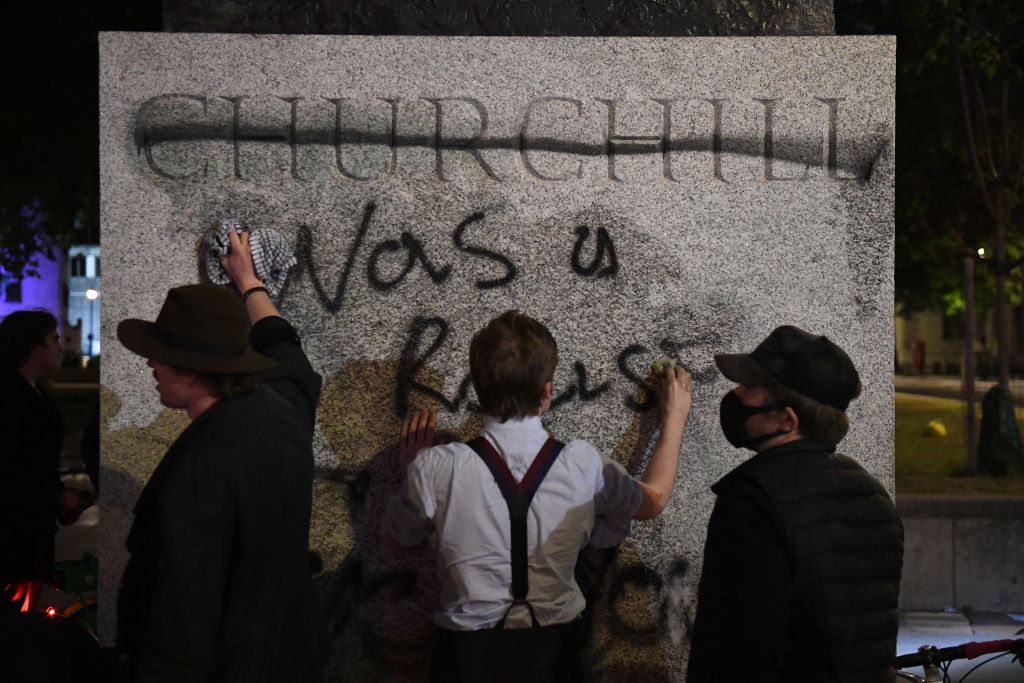 LONDON, UNITED KINGDOM – JUNE 07: People try to clean graffiti off the Winston Churchill statue in Parliament Square outside the Houses of Parliament after a Black Lives Matter protest on June 07, 2020 in London, United Kingdom. The death of an African-American man, George Floyd, while in the custody of Minneapolis police has sparked protests across the United States, as well as demonstrations of solidarity in many countries around the world. (Photo by Chris J Ratcliffe/Getty Images)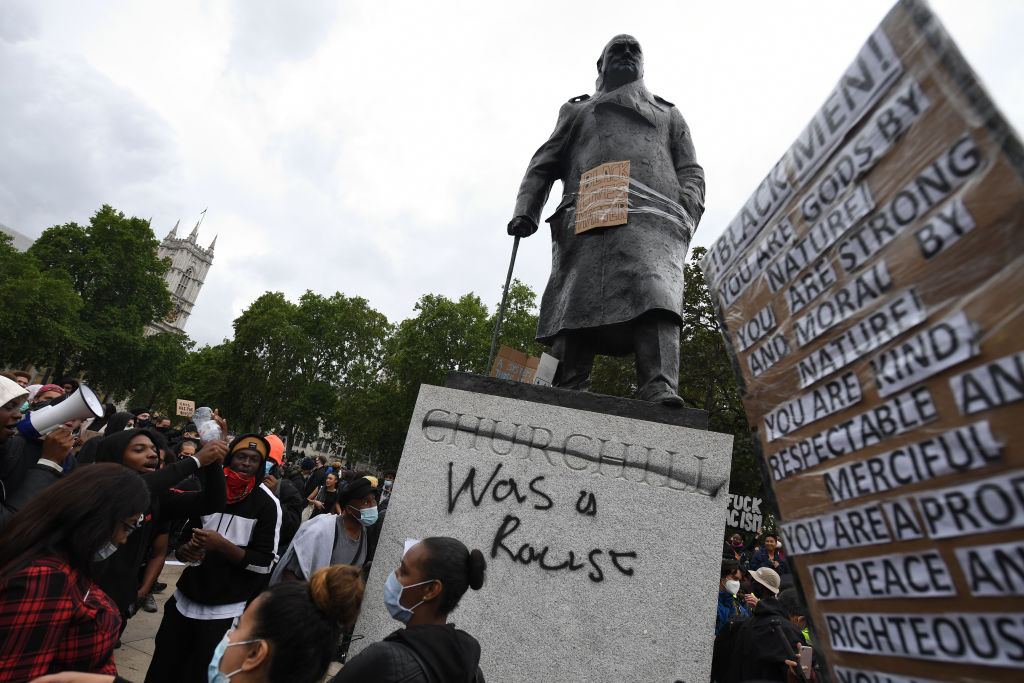 LONDON, UNITED KINGDOM – JUNE 07: Protesters gather in Parliament Square Garden around the statue of Winston Churchill which has graffiti with the words "was a racist" outside the Houses of Parliament in Westminster during a Black Lives Matter protest on June 07, 2020 in London, United Kingdom. The death of an African-American man, George Floyd, while in the custody of Minneapolis police has sparked protests across the United States, as well as demonstrations of solidarity in many countries around the world. (Photo by Chris J Ratcliffe/Getty Images)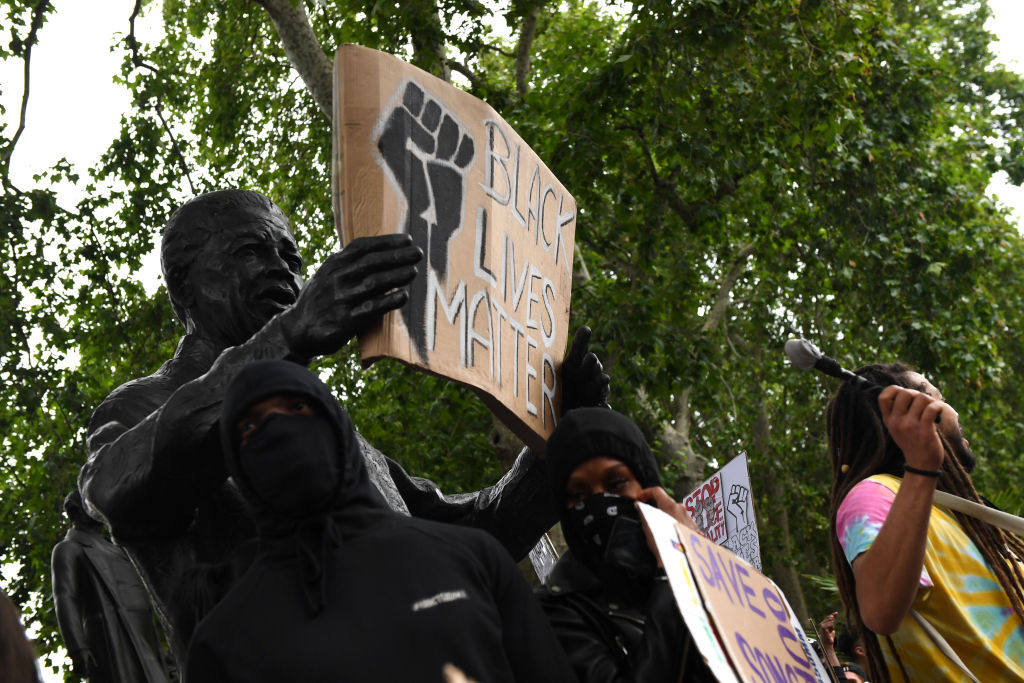 LONDON, UNITED KINGDOM – JUNE 07: A placard reading "Black Lives Matter" is placed between the hands of the Nelson Mandela statue in Parliament Square Garden outside the Houses of Parliament in Westminster during a Black Lives Matter protest on June 07, 2020, in London, United Kingdom. The death of an African-American man, George Floyd, while in the custody of Minneapolis police has sparked protests across the United States, as well as demonstrations of solidarity in many countries around the world. (Photo by Chris J Ratcliffe/Getty Images)